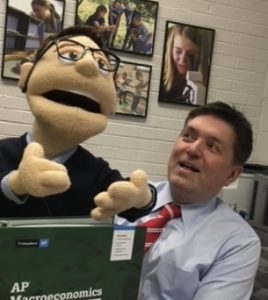 With more than 25 years' experience as an AP teacher, reader, and consultant, John is well versed in effective strategies for helping all students tackle challenging content and develop critical reading and evidence-based argumentation skills.
John is the lead author of Ideas In Argument and Ideas In Literature,  two skills-driven groundbreaking textbooks for AP English Courses, published by Bedford/Macmillan.
A Kentucky educator and native, John Williamson is currently the Dean of K-12 Programs at Eastern Kentucky University and Superintendent at Model Laboratory School where he also teaches AP English.  
John's professional career in education has afforded him many opportunities, including Vice President of Curriculum, Instruction, and Assessment for the College Board's AP Program; superintendent, curriculum director, and AP teacher in a variety of school districts—large and small as well as rural and suburban; and ELA curriculum specialist for the Kentucky Department of Education.  
John holds Master's degrees in Educational Administration and English from Columbia University (NY) and Morehead State University (KY) respectively and an undergraduate major in English teaching from Eastern Kentucky University.