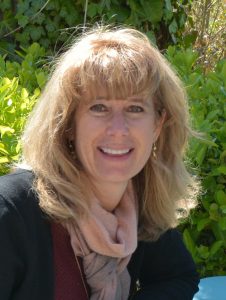 Susan Frediani, M.A., has taught English in public and private schools. She earned her B.A. in English at UC Berkeley, and her M.A. in Curriculum, Reading, and Instruction at CSU Sacramento. She has taught grades 6 through community college, and grades 10-12 at Quincy High School in northern California. Susan has taught both AP* English Literature and AP* English Language.
Susan has served Plumas Unified School District as both an instructional coach at four high schools and as Special Projects Coordinator. Susan was chosen by the College Board as part of a cadre of expert AP teachers creating and delivering the AP Daily videos in AP Classroom. She has read the AP* English Literature exam as well as the AP* Seminar exam. She has trained AP* teachers both in person and online at CSU Sacramento, CSU Monterey Bay, San Gabriel, Spokane, WA, University of Alabama, University of Arkansas, AP* By the Sea, AP* Seminars Silicon Valley (Palo Alto), Boise, Idaho, and UCLA. Susan has also trained teachers in AP English Literature and AP English Language as an international presenter in Guam. She is also an endorsed Pre-AP National Consultant. She received a College Board appointment as a mentor consultant for new AP trainers in both AP Literature and AP Language.
She has served as her district AP* coordinator, a teacher induction coach, and PUSD's ELA Vertical Team Lead Teacher. She served for four years as Chair of the SAT Test Development Committee for English Literature, and she is a current member of the SAT Writing and Language Review Committee. Susan currently serves as Chair of the College Board's ELA Advisory Committee.
She was a former recipient of an NEH Summer Scholar Program Award focusing on the works of Richard Wright. Susan obtained her administrative services credential, and she also serves as a CalTPA submission assessor.