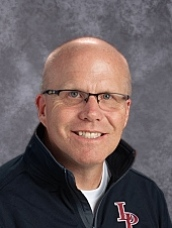 Scott Birrell earned his undergraduate degree from Brigham Young University, majoring in History with minors in English and Political Science.  From there he attended Claremont Graduate University in southern California where he focused on American Studies for his graduate degrees.  From 1994 to 2010 he worked as an adjunct faculty member at Brigham Young University, and from 2010 to the present as an adjunct faculty at Utah Valley University.  In addition, since 1999 to the present he has worked at Lone Peak High School in Highland, Utah, where he teaches AP U.S., AP Government and Politics; and American Studies (combined 10th grade US History Honors and English Honors).  
In 2001 he began participating in the annual AP reading where he has served as a Reader, Table Leader, Question Leader, Exam Leader, and is currently the Assistant Chief Reader.  In these positions he also functioned as an early arrival to the Readings in order to help establish the scoring guidelines for the Reading (along with many others), as well as selecting and assembling sample packets for the training of the Readers. 
In 2004 he started conducting AP Workshops for College Board.  In this capacity he has traveled throughout the western United States.  Through these years he has also contracted with Educational Testing Services and College Board to write multiple choice questions and short answer questions for the AP U.S. History exam.  Most recently he helped create the multiple choice test bank for College Board that became available 2019.