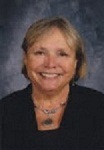 Carol Elsen developed the Advanced Placement English program (both AP English Language and AP English Literature) in the Montana high school where she has taught for over 19 years. She has also has taught composition and literature courses at The Ohio State University and the University of Montana.
In 2001, she became a reader and table leader of the AP English Language and Composition exams. Since 2001, she has served as a Faculty Consultant for the College Board, presenting one-day workshops and weeklong institutes throughout the Western Region, as well as nationally in such settings as the AP National Conference where she served on the steering committee in 2011-2012.
Carol has been involved as a reader and trainer of trainers in developing the Montana Writing Assessment (a pilot project for the ACT writing assessment). A member of NCTE and MATELA, she also teaches online for UCLA in the summer sessions. In addition to teaching and course content writing for the College Board as well as for college level American Literature courses, she reads and serves as a scoring leader for the writing sample of the SAT. As a mentor teacher, her joy is in helping AP English teachers discover new insights and methods for successful teaching.