Idaho Shakespeare Festival
Pack a picnic and visit a live, thrilling show at the outdoor Idaho Shakespeare Festival – Calendar
Bring blankets and low-backed lawn chairs with seats no higher than 6 inches from the ground for both reserved and general admission lawn seating. And you may, of course, bring your own picnic and beverages or purchase food and beverage from Café Shakespeare By Lisa Peterson. Chairs are also available for rental at the souvenir stand for $2 (subject to availability.)
Bear Valley Rafting Trips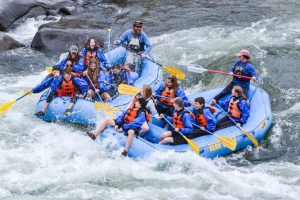 Located in beautiful Banks, Idaho at the confluence of the North Fork and the South Fork of the Payette River,
Bear Valley Rafting Co.
is the ideal place to fulfill your true Idaho whitewater river rafting experience.
*We are only 45 minutes from Boise, Idaho!
Boise Saturday Farmer's Market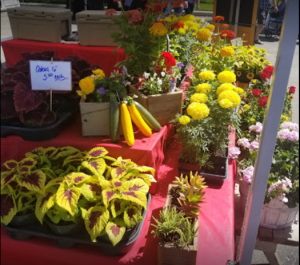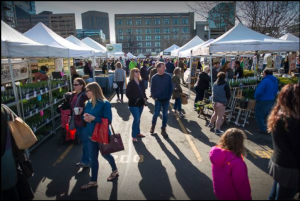 You will be pleasantly surprised with the number of fruit and produce vendors along with other Idaho based vendors like wineries, bakeries and other edible products.
There's a nice number of food trucks available to grab a bite.  There is usually local entertainment stationed on various corners for your listening pleasure.
Boise River Greenbelt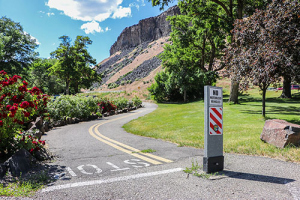 The 25-mile Boise River Greenbelt is one of Boise's most beloved parks. The tree-lined pathway follows the river through the heart of the city and provides scenic views, wildlife habitat and pedestrian access to many of the city's popular riverside parks. The "Ribbon of Jewels" is a series of parks located along the pathway.
Freak Alley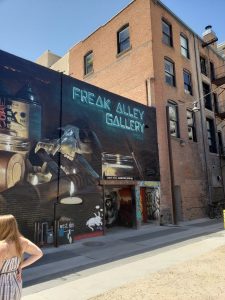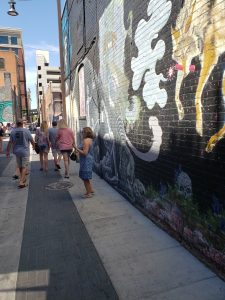 Meander down Freak Alley, a downtown Boise outdoor "Graffiti" Art Gallery, where artwork revolves every few years.
Freak Alley is a "notable venue" for murals, graffiti and public art located in an alley in downtown Boise. It is said to be the largest outdoor gallery in the Northwest, and has been a Boise institution since 2002. It began with a painting of a single alley doorway and now extends from the alley itself to gravel parking lot.
Combined with a trip to the Saturday Farmer's Market – you can have a great Downtown Boise walking experience.
Tour the District 44 wineries in Garden City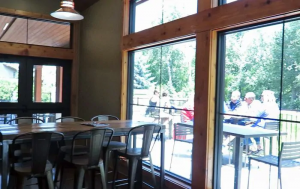 These 5 wineries are all within walking distance, albeit a bit of a hike. From Cinder Winery to Coiled Wines is 1.4 miles, or about a 30 minute walk.  You can start your day at Cinder, and finish at Coiled. You can get through them slightly in a couple hours, or take longer, if you hang out and enjoy yourself. You won't find any food at the wineries, so when you're ready for a lunch refueling, try the Sandbar Patio Bar & Grill or Joe's Crab Shack, next to Telaya. We also found a couple of taco trucks parked in Garden City!
Cinder
Hours: Open 7 days a week, 11am-5pm
107 East 44th Street, Garden City, Idaho 83714 | Phone (208) 376-4023 | Website
Split Rail
Hours: Noon-6pm, Wednesday-Sunday
4338 W Chinden Blvd, Garden City, ID 83714 | (208) 490-0681 | Website
Syringa
Hours: Noon-6pm, Saturday only (or by appointment)
4338 W Chinden Blvd, Garden City, ID 83714 | Website
Telaya Wine Company
Hours: Open 7 days a week, Noon-6pm
240 E 32nd St, Garden City, ID 83714 | (208) 557-9463 | Website
Coiled Wines
Hours: Noon-6pm, Thurs-Sun
240 E 32nd St, Garden City, ID 83714 | (208) 820-8466 | Website
Trails of Boise Idaho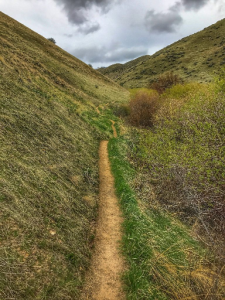 Boise Idaho trails are roughly grouped by regions. If you're not familiar with Boise, start by looking at the Boise trail map — or just pick a trail, and start exploring.
Whether hiking, running or mt biking, Boise offers almost 200 miles of loops and connectors in and around the foothills.