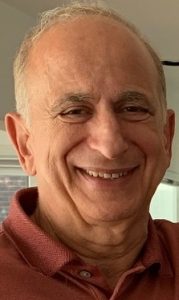 Dr. Martin Sternstein retired after 45 years at Ithaca College.  He is now "Professor Emeritus" and was honored by Princeton Review as one of the nation's "300 Best College Professors."  He has strong interests in both national and international educational and social issues concerning equal access to math education for all. Marty spent two years in West Africa as Fulbright Professor at the University of Liberia, after which he developed a popular "Math in Africa" course, and he is the only mathematician to have given a presentation at the annual Conference on African Linguistics. He also taught the first U.S. course for college credit in chess theory. He has been a Reader for 6 years and a Table Leader for 9 years for the AP Statistics exam, and has given over 60 College Board Pre-AP and AP workshops.  Marty is the author of the Barron's AP Statistics review book used by over 20,000 students each year.
2022 AP Statistics Summer Institute
This AP Statistics workshop will provide an overview of statistical ideas and concepts and give valuable resources and instructional strategies for teaching AP Statistics.  We will cover the four principal areas of the AP Curriculum: Exploratory Analysis, Data Collection, Probability, and Statistical Inference.  Participants will be given instruction on content, classroom activities, teaching strategies, time management, uses of technology, review for the exam, cumulative projects, and exposure to previous AP questions.  There will be a discussion of AP goals, resources, the CED, the College Board AP Classroom, and equity issues, the course audit, and recommended textbooks.  This workshop will be valuable not only to teachers planning to teach or already teaching AP Statistics, but also to Pre-AP teachers who through vertical teaming can help prepare and encourage students to take AP Statistics.
More specifically, the following topics will be covered in some detail:
1)         Exploratory Analysis: graphical displays including dotplots, bar charts, histograms, mosaic plots,  stemplots, and boxplots; numerical summaries including median and mean, range, interquartile range, variance, and standard deviation; bivariate data including scatterplots, correlation, the least squares regression line, the coefficient of determination, and residuals; and categorical data including frequency tables and Simpson's paradox.
2)         Planning a Study: simple random sampling, sampling error, sources of bias in surveys, and stratification to reduce variation; observational studies vs experiments; blinding, double-blinding, blocking; random sampling vs random assignment.
3)         Probability: multistage probability calculations, discrete random variables and their probability distributions, simulation of probability distributions, and means and standard deviations for sums and differences of random variables; normal distribution; sampling distributions of sample means and sample proportions.
4)         Statistical Inference: confidence intervals for means and proportions, difference of two means or proportions, slope; hypothesis tests including null and alternative hypotheses, P-values, one and two sided tests, Type I and Type II errors; tests for a proportion, for a mean, for a difference, and for a slope; chi-square test for goodness of fit and chi-square test for independence; the t-distribution and associated single sample and two sample t-procedures.
 Much of the above will be presented and illustrated in the context of activity-based examples.